Whole Body Cryotherapy is the use of extremely low temperatures, inciting vasoconstriction and leading to a vast array of physical and mental benefits. 111CRYO/HEAT stands as the longest established and 1st in the UK to pioneer gas-free cryotherapy, the safest modern way to deliver this highly effective treatment.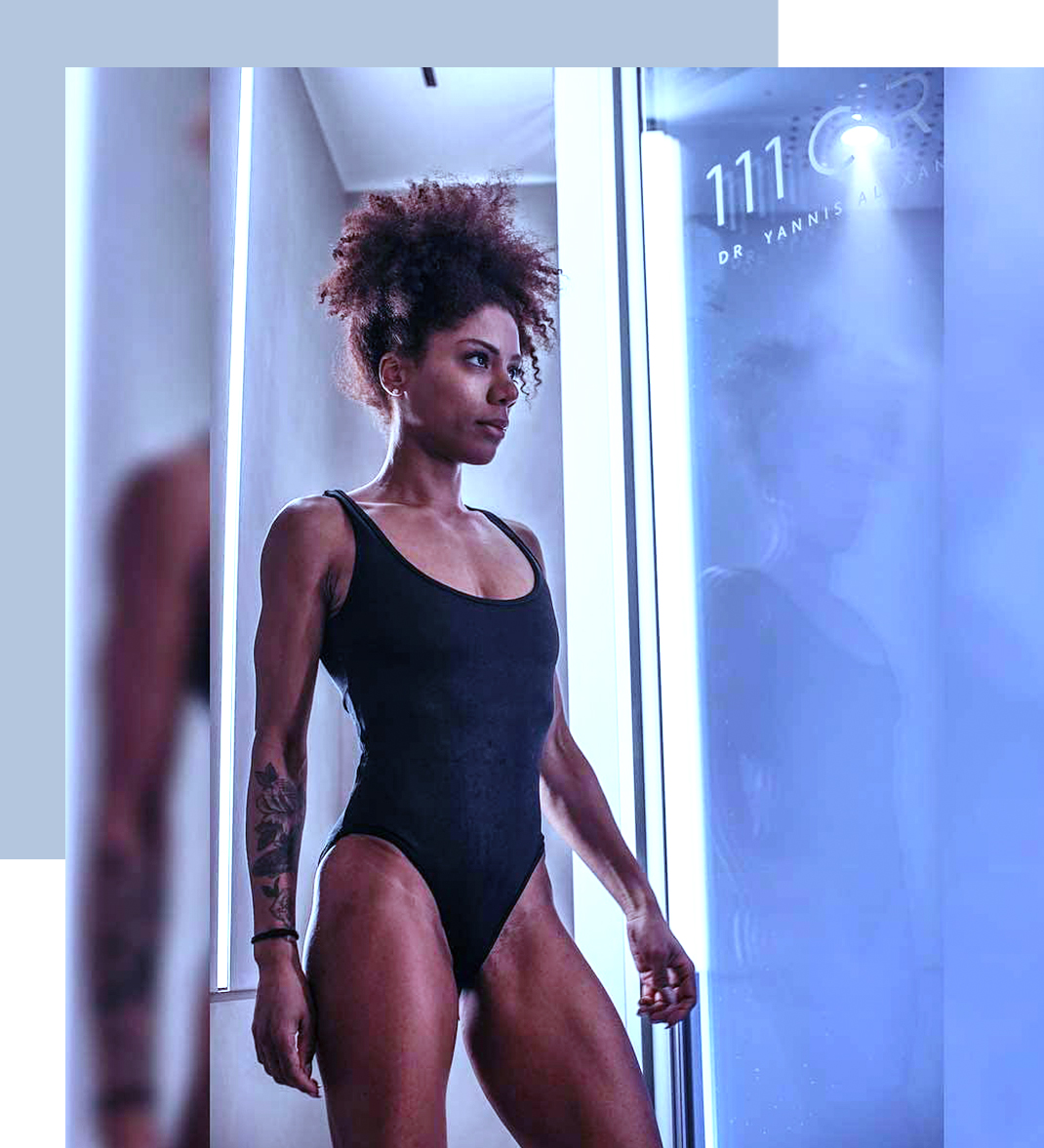 • Metabolic Boost: potentially increased calorific burn of up to 800 calories over the following 24hours.
• Anti-Inflammatory: Clinical studies have shown WBC can benefit a wide range of medical conditions including rheumatoid arthritis, osteoarthritis, fibromyalgia, tendonitis, muscle and ligament strains, back and neck pain. There can also be possible relief from inflammation of the skin such as eczema and psoriasis.
• Anti-Aging: Collagen levels can increase in response to elevated oxygen uptake, and are more expediently distributed around the body with improved circulation, helping to reduce signs of aging.
• Weight-loss Assisting: White fat cells converted to brown fat cells can be broken down and metabolised faster, helping weight loss when cryotherapy is combined with exercise and a healthy diet.
• Aesthetic Boost: Cryotherapy increases epidermal firmness, helping improve the tone of skin. Increased circulation of nutrient rich oxygenated blood helps improve complexion and reduce water retention.
• Energy Elevator: Increased oxygen uptake and an adrenaline + endorphin rush help to reduce fatigue and assist strength and stamina levels during post-session exercise or activity.
• Immunity Support: Regular sessions of cryotherapy can help boost the immune system by increasing the circulation of oxygenated blood around the body.
• Recovery Aid: Muscular pain or DOMS (Delayed Onset Muscle Soreness) can be greatly reduced by cryotherapy, leading to fast recovery times post-injury or post-exercise.
• Mood Enhancement: Stimulating hormone release, including endorphins, mood can be elevated, stress relieved and brain fog cleared. Some reports show it may even help with depression and anxiety.
• Sleep Quality: Many users find improved sleep following cryotherapy, as serotonin and melatonin hormone balance can be improved.
| | | |
| --- | --- | --- |
| | | |
| | | |
| 3 Sessions (New Clients Only) | | |
| | | |
| | | |
| | | |
| | | |
| | | |