WHY LED IS KEY TO ENHANCING GREAT SKIN
Already causing a stir in the beauty industry, LED has challenged the traditional ways that we look after the skin, harnessing the power of light, LED targets the skin concerns that help to improve circulation and skin cell renewal. Discover what the benefits are and how to receive the greatest results yet.
WHAT IS LED AND HOW DOES IT WORK?
LED stands for light emitting diode therapy and is a skincare treatment that uses varying wavelengths of light including red or blue. A non-invasive hand and facial treatment that non-thermal LED to stimulates your body's natural cell processes to recharge and repair the skin. Originally used help heal wounds and regenerate damaged muscle tissues, LED is more commonly used now to smooth out the skin and reduce the appearance of scars, pigmentation, sun damage, acne and many sensitive and inflammatory conditions as well as restores the skin's radiance by penetrating the dermis at varying levels.

LED works by using colour wavelengths of visible light which has specific skin benefits. As a source of energy, the skin is attracted to the light and this then fuels the repair and rejuvenation of the cells. This then means the damaged cells are encouraged to renew as well as killing bacteria that can lead to acne. The energy created by the LED stimulates the production of collagen and elastin, encourages circulation and pushes tissue repair.

WHAT ARE THE DIFFERENCES IN LED COLOURS?
Red Light – For firming, red light increases collagen production, restores cell function and promotes circulation.

Blue Light – For clarifying, blue light reduces acne-causing bacteria and inflammation.

Green Light – For balancing, green light evens out the complexion and reduces discolouration.

Yellow Light – For Soothing, yellow light stimulates the lymphatic system and strengthens the immune system.

Far Infared – helps enhance circulation in the skin, modulate sleep, reducing pain, strengthening the cardiovascular system, easing joint stiffness and inflammation and protect against oxidative stress. The benefits of far infrared therapy are enhanced by jade stone, which helps healing heat penetrate deeper while producing soothing negative ions.

Near Infared – boost the metabolism, promote cell regeneration, rejuvenate the skin, provide pain relief and improve flexibility.

HOW TO MAKE THE MOST OF LED?
Within our 111CRYO/HEAT wellness suites at both Harvey Nichols and Harrods, we believe in mastering and harnessing the innovation of temperature and light technology. In particular our Express Thermotherapy Facial and Luxury Cryotherapy Facial enhance the skin with forward thinking technologies.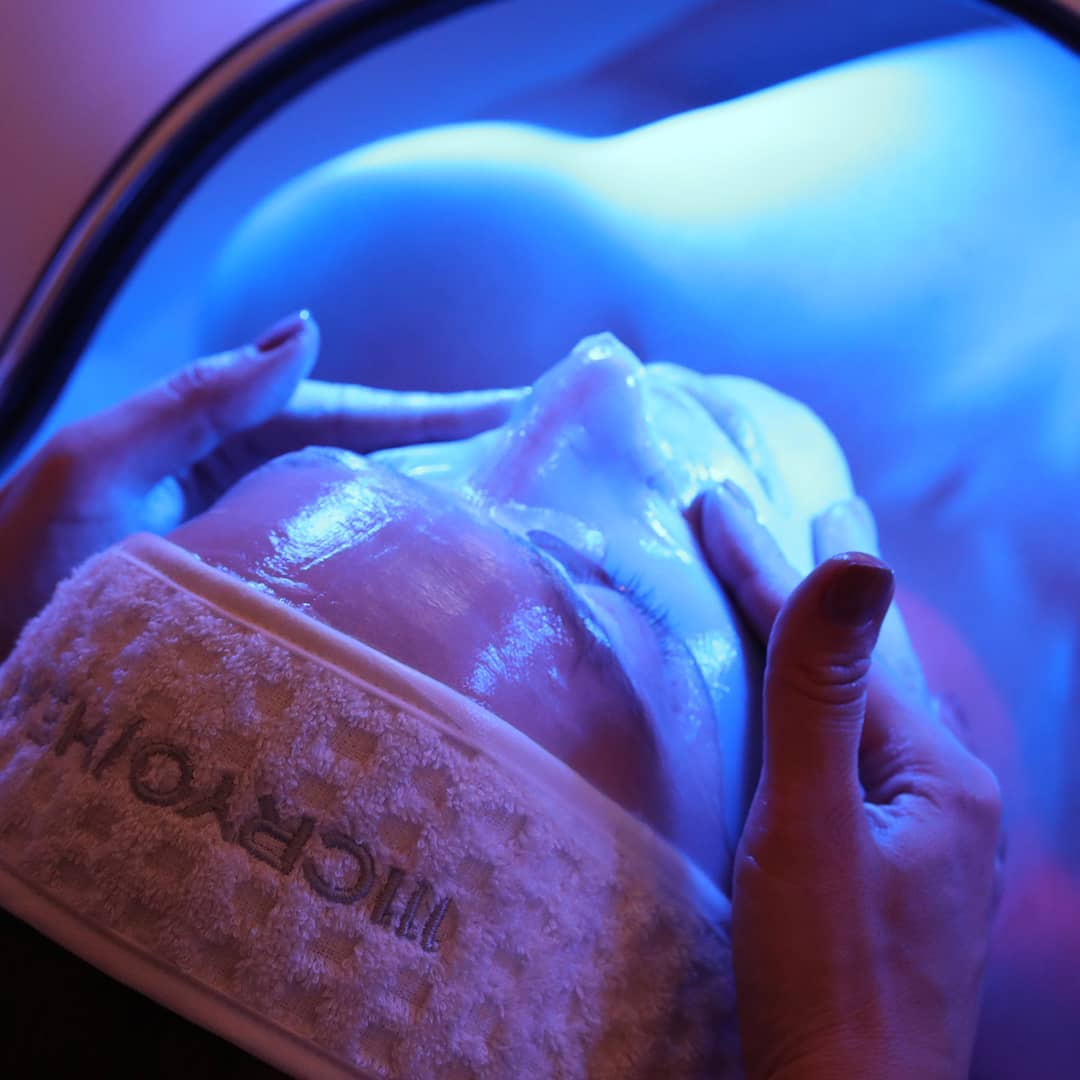 EXPRESS THERMOTHERAPY FACIAL
30 minutes

Inspired by our HEAT technology, this relaxing facial combines 111SKIN's signature steps with an anti-aging wand massage, Oxygen machine to speed cells turnover and help detox the skin, selected facial mask, and LED light – which can penetrate the skin to stimulate collagen, reduce bacteria levels and evens the skin tone.
LUXURY CRYOTHERAPY FACIAL
60 minutes

This luxurious treatment uses the power of purified air from our cryotherapy machine combined with LED light therapy and signature massage techniques to truly lift, firm and tone the face. This facial works on the skin, muscles of the face and lymphatic system to holistically restore and re-energise your appearance, using 111SKIN's regenerative range to infuse the skin with cellular energy and calming ingredients.
#111CRYO
[iscwp-slider username="111CRYO" show_caption="false" show_likes_count="false" show_comments_count="false" slidestoshow="6" autoplay="false"]